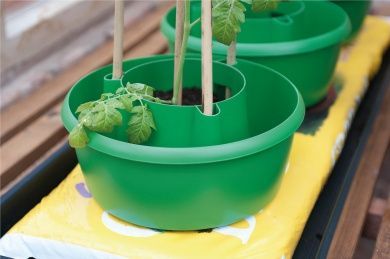 Plant Halos (Set of 3) Green Garden Plastic Watering Grow
Product Code: G167G
In Stock: 9
£8.99
---
Plant Halos (Set of 3) Green Garden Plastic Watering Grow
These new Plant Halos offer a watering and support solution for crops such as tomatoes, peppers and beans. The watering system slowly releases liquid directly to your plants roots.
Features
The 3 litre outer moat delivers liquid at a reduced rate directly to the plant's roots, therefore absorbing water and feed with greater efficiency

A central inner pot lets you add compost to create a deeper planting area to develop healthier plants

The crane support system provides the means for a rigid, wind resistant structure using bamboo canes (not included)

A cane grip cap allows up to 4 canes to be joined together at the peak
Dimensions
Diameter 29 cm (11.4"), Height 13cm (5.1"), excluding the 2.8cm (1.1") water spikes, 3.1 Litre (0.7 Gallons) Capacity.
---
Customer Reviews
Write Review
Please enter a valid email address.